25 limiting beliefs to let go of in 2020 and one thing to keep
I used to live near this alley of trees and I enjoyed jogging and walking there each weekend. In 2019 I let go of a whole list of limiting beliefs, fears and other things. My weeked routine was on the list which included my house and my twenty-year marriage.
As we enter the next decade and new year, I look back on all the limiting beliefs I have worked hard to let go of. What a list! I wonder if you recognize any of the following:
fears
inhibitions
pain
hate
doubt
judgments
old objects you no longer need
the past
unfinished projects
should have beens
would have beens
resentment
worries of lack/scarcity
bad advice
negative thoughts
money (one of the things I discovered in 2019 was the power of a coach and good coaches cost money. To get where you would like to be, you may have to let go of some money)
limiting beliefs (including about what food etc nourishes us)
vocabulary and expressions which no longer have a meaning for you e.g. I used to say "weird people" a lot… and yet I am certainly the "weird" one – now I say "exciting people" which hopefully includes me
burdens which are not yours to carry
desires to control the situation
your ego
what's bugging you
your breath (not dying, just not holding it uselessly as you wait for others to do things they never do)
your shit (it's a little gross, but shit happens too)
Imagine if you let go of five things on this list in 2020. Where would you start? What results might you achieve? What surprises could come to you? Go ahead and give it a try. Choose 5 and see what happens when you let go of them. I dare you! hat to
And let go of this…
For those of you who counted the list and found only 24 things, the 25th is one I definitely dare you to let go of in 2020: your rainbow on stage! What does that mean? It means being able to show all your colors as you speak or perform for an audience. In this way, you express your Red Emotions, Orange Energy, Yellow Joy, Green Hope, Blue Vision, Indigo Depth, and Purple Soul and let people connect with you, your words and all that you are in that moment.
It's fun, uplifting for you and others and may look something like this…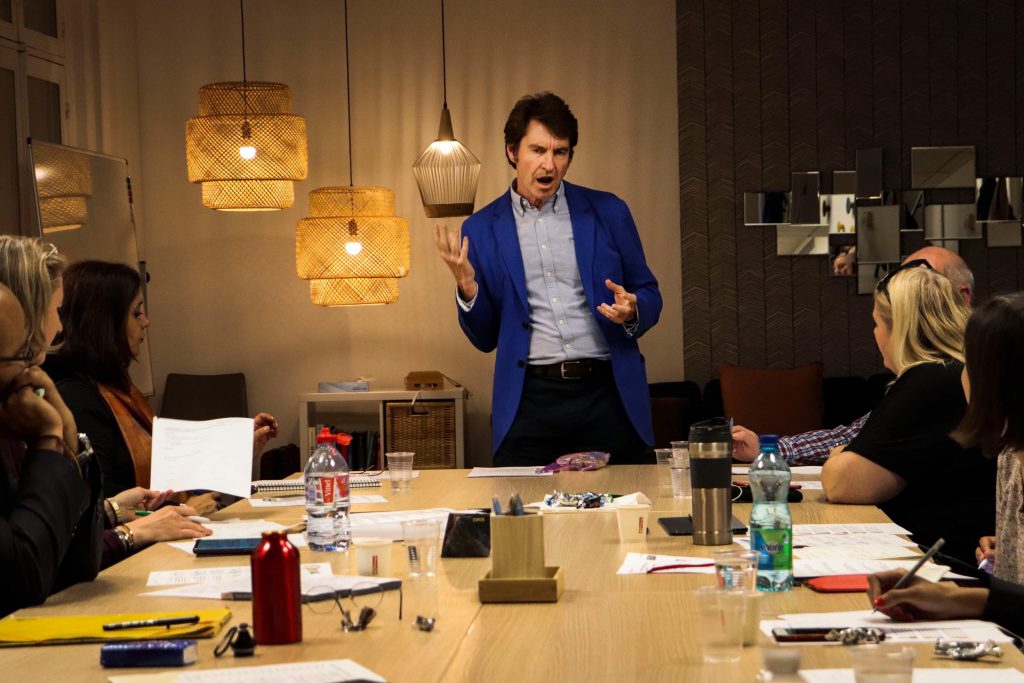 Or Not! Whatever you do when you let your rainbow go, it will be you and your style will show. And you will uplift your audience. I guarantee it as we all get inspired by someone who lets their rainbow show.
I am thankful when I let my rainbow go and others see me as I am. It has been a long journey to get comfortable with this and each step has been one of letting go as I grow as a speaker and as a person and become more connected to the people who show up in my life and show up to hear me speak and share my rainbow.
If you need help letting go of your fears about sharing your rainbow, I can help you with coaching or workshops which will give you a new way of thinking about speaking in public.
Keep hope!
Now what is that one thing you need to keep in 2020? Hope! We always need to keep hope in all situations and at all times. And to help you do it I am sharing a link to a chapter on Green Hope from my ebook "The 7 Keys to Colorful Communications". You can find it here:
I hope it inspires you to speak with the color of Green Hope with your coworkers, clients, loved ones in 2020 and beyond.
I wish you an amazing 2020 which brings you a bright, glorious rainbow of colorful connections with people and many rainbow moments you will never want to let go of.