About brooms, hugs, and going over time on stage
Last weekend I attended #elevate2019, the French and European Speakers Convention, in Paris. It was an excellent two-day event with a wide range of  top-notch speakers, amazing singers, a juggler, and Peter Shub, a wonderful clown who was worth the price of admission alone. During the two days of fun and learning, I watched for speakers that really stood out amongst the big names which included the president-elect of the Global Speakers Federation, Paul ter Wal, Fredrik Haran, and James Taylor. And I swa others go over time on stage. 
That shocked me and made me realize that even in the context of a professional event a full understanding of how to Speak the Rainbow™ can be an edge to stand out positively.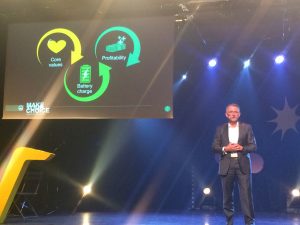 Speak the Rainbow™ needs a purple soul connection and this occurs when we are present and aware of all that is happening in the room and in time, which means being aware of how the organizers are running on time too.
Sadly not all the professional speakers at #elevate2019 were aware of how important this "soul" intuition is when connecting with the audience. Several went over time and had to be gently reminded by the Emcees who came on stage with brooms and dust brushes. Incredibly, some speakers did not even feel the brooms approaching and even the sight of broom-pushing Emcees did not deter them from continuing to speak as if time was on their side. Yet, it seems a no-brainer that once the brooms appear nobody is listening to you as attention has turned to what the brooms are going to do next. In this situation, you might as well conclude and leave.
Professional speaking is about being professional and even if the material misfunctions and time is lost starting your presentation – you should be able to adapt it to the time format allotted to you. You can always explain to the audience that you have to cut it short, but are willing to connect with them after the conference and even send the slides you might not have been able to show.
I honed this awareness of time at my Toastmasters club, Busy Professionals,  where our tightly planned meetings are run on a strict 1 hour 30 minute format and speakers are clapped off when they go over time. This has helped me when competing in Toastmasters contests as well as participating at open mic events at stand up comedy clubs where an comedian who goes over the 5 or 10 minutes he or she has been alloted is seriously not funny and risks never performing at that club again. Sure, I can still go overtime like anyone who loves the stage, but more often than not I have an intuition that the time has almost run out and this intuition tells me to look at the timing cards or host of the comedy show right before the moment I am supposed to stop.
Hugs instead of brooms
As someone who repects the audience's time and has hosted events, I enjoyed the brooms approach and applauded the Emcees for using such a clever technique to stop those who were overtime.  The brooms reminded me of a great method that I saw last year at the Applied Improvisation Network World Conference in Paris. The two Emcees used hugs instead of brooms to "attack" tardy speakers. Their attack was played with humor as the two ladies approached the speaker slowly from the wings with outstretched arms and the audience laughed as they eventually encircled their prey with a generous hug. The speaker was stopped effectively and guided off the stage with a warm hug.
In spite of the efforts of the Emcees to control time, the two-day #elevate2019 event got behind schedule. As a result, the afternoon break was cut from the program of the second day. Of course, the Emcees did not wish to cut anyone's time on stage. Unfortunately, I did not hear them explain the afternoon break had been cut. I wanted to get some water and fresh air and so snuck out during a speech thinking there would be a break at the planned time. As nobody came out of the conference room, I went back to my seat and saw that Fredrik Haran was on stage and already into his presentation.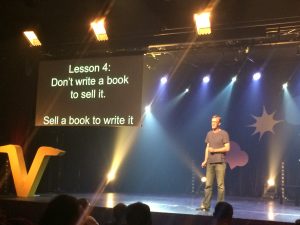 As my desire to hear Fredrik was one of the reasons I attended the conference, I would have been upset with the organizers if my intuition had not saved me and told me to go back in the room. Being aware and being present, I sat down and enjoyed the rest of his inspiring presentation full of unconventional advice (Don't write a book to sell it, sell a book to write it)  as well as stories that only happen to Frederick Haren, who seems well connected to the purple soul end of his rainbow (was it a surprise he was wearing a purple t-shirt?) as he makes the most improbable and colorful "soul" connections around the world.
Here are my Five takeaways:
Develop your intuition as a speaker. This will let you connect with the soul of your audience and you will sense what is happening in the room better.
 Ask your higher "guides" to connect you to your audience. You might feel or "hear" a message they need a drink, food, or just to get up and shake it out. This awareness will give your speaking an invisible edge.
Always try to finish ahead of time. If you go over time, respect the brooms and hugs and leave the stage with grace and kind words for the organizers/Emcees when they appear.
Develop your sense of time by speaking in contexts where strict timing rules are set or practice alone with a timer until you can feel the passage of seconds and minutes and intuitively know the duration of your talk.
Remember less is more!
FYI Aside from the brooms, the conference was fabulous and Fredrik, no surprise, finished on time.