Are you receiving the gifts of your audience?
Now is the season of gift giving and, hopefully, you are happy with what you received and gave. But as a speaker, did you pay attention to all the gifts you received in 2017? Every speech gives gifts! And if you are not speaking enough, you are missing out on some of the finest gifts you can receive. If you have been sharing your colors, your audience has been returning you the rainbow colors of red emotion (eg. I loved it!, Great speech! ), orange energy (warm applause), and yellow joy (laughter and smiles). People may have shared their blue vision or offered deeper analysis (indigo) in the form of feedback, opinions, and advice. Others might simply have shared their purple soul in an improvised reaction – a raised eyebrow or shrug of the shoulder. Did you notice these things? Speak the rainbow is also about listening in a non-judgmental way to all the colors that circulate between you and your audience.
Listening is one of the most underappreciated tools in the performer's toolbox.  Michael Port – Steal the Show
This lesson came home to me on Christmas. I was alone. Separated by an ocean from my parents, brother, and sister. Separated from my wife, and, as a consequence, my kids, by choice. I lit candles and photographed the lights and sent the Follow your Dream image to creative friends in various places around the world to inspire them. A few replies came back. One asked if I was in a mid-life shift. It was a friend from my hometown of Calgary, Canada, who I had not seen for 18 years and only recently connected with on facebook. Our  text messages evolved into a discussion about which path I was on  – "the Trump Brand til Death",  or "the AI Matrix Merging" or "the third option". This seemed like a test to pass. The conversation would end if I failed in my reply. I guessed that my Speak-the-Rainbow theory is a third option to see our world: A vision for life beyond brands and outside of AI machine responses and computer control of minds. So I  replied, "the third option sounds intriguing, although not sure what it means". The reply "me neither…but it smacks of co creative inspirational behaviour, seeds being planted" resonated as though our thoughts and vocabulary were aligned. This sparked a desire to share my image of green hope which I had drawn a few months back.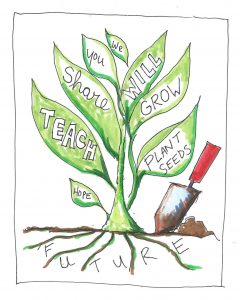 I proudly waited for approval, and, maybe, an expression of awe. About 15 seconds later this image came back.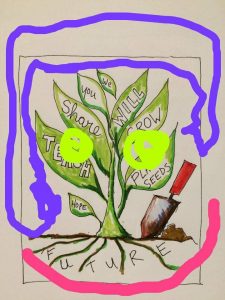 The shock was visceral! I could hardly believe it, and yet after a couple of seconds I realized the beauty of what had just happened. I wrote back that it was like Andy Warhol collaborating with Jean Michel Basquiat. Instant reaction and creation of something new. I accepted this Christmas gift, and the next morning posted it on Instagram with the following message:
Speak the rainbow and be open to the rainbow colors your audience gives you back. Feedback, positive and negative reactions, opinions, laughter are best received and accepted as gifts of co-creation.
The man who drew on my work is Wes Sommerville, a talented light artist. He's a man I inspired to love art over 30 years ago when I was a painter and communicated to him my passion for art. This, our first co-creation ever, was my Christmas gift from sharing my colors.
What gifts are you receiving from your audience? Are you listening? Don't wait for next Christmas to give and receive. Get out there and share something today in a speech, in a comedy club, on a blog or a canvas. Make it full of rainbow colors and watch the rainbow come back to you.