The Joy of discovery (of your own weaknesses!)
This past August I visited Vancouver, Canada to attend the Toastmasters International Convention. One very sunny afternoon a friend and I rented bikes and cycled around Stanley Park. As we left the park, a wonderful public sculpture caught my attention. I recognized the large group of laughing men (called A-maze-ing Laughter) as the work of Chinese artist Yue Minjun and immediately stopped to take a selfie, just as many other people were doing. After a few selfies, I spotted the artist's inscription "May this sculpture inspire laughter, playfulness, and joy in all who experience it" which seemed perfect for a blog post about yellow joy. I immediately started snapping shots in the hope of getting all the words of the long inscription into a photo. When I stopped to check I had an image with all the words in it, I discovered I was still in selfie mode and had picture after picture of my excessively-concentrated face.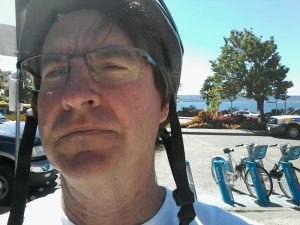 My friend and I fell into hysterical laughter just looking all the silly faces I had made. When I looked up, it seemed that all the laughing men were suddenly laughing at me too! Our laughter connected with others who were also photographing the statues, as laughter is contagious. This story illustrates perfectly for me what yellow joy should be – in the present, fun, sunny, and with the ability to laugh at oneself openly in public.
Laughing at your own weakness (es) is an easy way to get yellow joy into your speaking. Another example of this type of moment happened recently. I started this blog just over a year ago in the hope of explaining how "to connect colorfully with your audience". Such was my promise. To that end, I wrote posts and flattered myself that I was sharing them via my blog. My subscriber list grew slowly and a comment or two appeared which gave me hope that people were reading what I was posting. I continued to write and even did an online course by Jeff Goins called Intentional Blogging. I worked through most of the course thinking I was getting more and more intentional and my readership would grow by applying the things Jeff outlined in his course. Ok, I admit, I did not apply all that Jeff prescibed, but I was getting intentional.
However, after a year, I started to have doubts that anyone on my subscriber list was actually receiving my posts. My doubts grew and I decided to test this idea by subscribing myself to my own blog. I posted a new blog and waited for it to appear in my inbox and nothing came. Surprised I asked another subscriber if she had received anything. Zero! Zilch! Nada!
I had assumed that WordPress was sending my posts to my subscribers all year and I had been wrong. Instead of making colorful connections with my audience, I'd been making none. My whole year of writing had been in vain because I had forgot to ask my audience if they were receiving my message. What a lesson! And what a clown I was to forget! This folks is the beginning of comedy: I, the expert in "colorful connections with my audience", had not even connected with my audience. Ouch!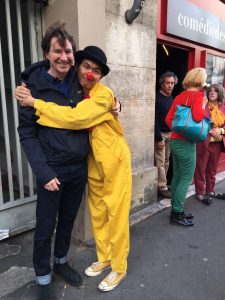 Luckily I can laugh at these stories and find joy in discovering my own weakness, and you should too. Your audience will love it if you can tell personal stories of your own failings – those moments when you have been dumber than dumb and then gone one step farther and opened your mouth only to stick your foot in it. Such stories create yellow Joy. David Nihill's excellent book Do you Talk Funny? uses funny stories from the author's life to illustrate how to add comedy to become a better public speaker. His book and FunnyBizz conference, which I attended in 2016, offer a ton of insights into how to add yellow joy to your message.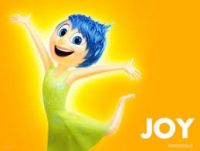 As for myself,  I have now set up a system to send my blog to my extremely patient subscribers. I really believe that starting this blog has given me the perfect tool to address my own weaknesses and that gives me great joy. I learn by doing and failing is all part of the process. I savor these moments as much as the successes as I know they will one day be valuable lessons to share with others and also contain the potential for future laughter.
Keeping your mind attentive in those embarrassing moments we all encounter in our daily lives makes it easy to find humorous anecdotes your audience will enjoy. Whenever you do or say something silly, jot it down and save it. You can share these priceless gaffs whenever you need to add more humor to your speech. Just beware, your audience will thank you with laughter and joy!