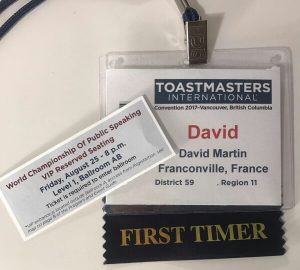 As a first timer at the Toastmasters International World Championship of Public Speaking in Vancouver, Canada in August 2017, I had a feast of fantastic speakers to watch and analyze. Here are six of the many takeaways from my experience.
1. Fear, a red emotion in rainbow speaking, was a prominent subject in many of the speeches I saw. In one semifinal I watched, eight of the ten speakers told stories of overcoming fear and shared the message that fear can be beat. The next semi I attended had two speeches about overcoming fear, and the final had an excellent speech called The Fear Olympics. As a member of Toastmasters, an organization dedicated to helping people learn to speak without fear, it seemed odd to hear so many speeches about the subject. I thought all Toastmasters were fearless, but apparently it is not yet the case.
2.  Mothers, wives, and girlfriends were present in many of the speeches and even pointed to in the audience with affection. Manoj Vasudevan spoke about both his wife and his Mama in his winning speech thus using the red emotion of love/hate to connect with the audience. In the final, both female contestants also spoke about their mother and this got me wondering if we listen to men differently when they speak about their mother, and if it makes a difference in the judging?
3. The best speeches are in the semifinals. I saw a pattern emerge and inquired after the finals to know if I was right. Finalists John Andrews, Aditya Maheswaran, and Saveen Hedge all told me that they had used their best speeches to get to the final. Their final speeches were excellent, as were the other finalists, but I suspect there were some gems in the semifinals that I did not see due to schedule conflicts.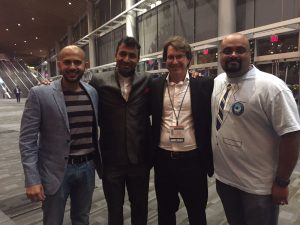 4. Memorable stunts, props, or visual gestures work wonders. As a Toastmaster from District 59, I attended the semifinal of Ricardo Cabete from my District and saw that he was ON FIRE! as his speech title claimed. In fact, he finished his speech by opening his wallet and letting real flames escape. It was a memorable purple soul moment which wowed the room and probably sealed his third place. Ricardo's coach, Pres Vasilev, probably had some influence here, as he used the memorable image of changing a tire to win in 2013. In the same semifinal, the second place speaker, Noreen Savage held an imaginary box of newpaper clippings to capture our hearts and the winner, John Andrews, had a backpack full of teddy bears which he used to great effect. A contestant from the same semifinal told me he was frustrated that he had to compete with such gimmicks, but as I spoke to him I kept asking myself, "What was this guy's speech about?" Although I had enjoyed it at the time, I simply could not remember it two days later. Perhaps because he had not added a memorable gesture like World Champion Manoj Vasudevan did when he repeatedly formed a cupid's bow with his arms in his final speech. It pays to be remembered by doing something memorable.
5. Some World Championship speeches have been used before. Finalist Aditja Maheswaran, runner up in 2015, used his 2017 final speech in the Las Vegas semifinals in 2015. Manoj Vasudevan placed third in 2015 with a similar version of his winning speech in 2017. He also reused a version of his semi final in Las Vegas in Vancouver. I suspect other speakers gave speeches that had been used before at other World Championships. As one who constantly changes and writes new speeches, this made me think that I should go back to some to improve what I have already created by seeking coaching and practicing them again.
6. Start preparing now! All the contestants I spoke with after finals, told me they had already started preparing for next year. This surprised me and yet made sense. Getting to the World Championships as a speaker is a HUGE achievement which only comes to those that prepare seriously all year for their chance. Those speakers who show up year after year have learnt what it takes to arrive and will reproduce it again next year. If you wish to compete on the big stage with them, you had better to get to work now.
At the convention I saw beautifully crafted rainbow speeches. Highly talented speakers blended the red emotions of stories with the orange energy of body language, spread yellow joy through humor, taught lessons offering green hope, shared their unique blue vision, sprinkled in indigo depth, and magically touched the audience with purple soul moments. With so many rainbows, picking the best three was hard and personally I did not put the winner, Manoj Vasudevan on my own podium of favorites. Perhaps because I had loved Manoj's semifinal speech, Enjoy the Ride, and that influenced my judgement. I do admire his winning speech, Pull Less and Bend More, and I will write a rainbow review of it once the full speech is available on line for free.