This weekend I will be doing my Speak-the-Rainbow workshop for the eleven amazing speakers lined up for TEDxIHEParis. Editing my ideas, I realized I needed an example of Green. Then I recalled one of my favorite TED talks by 13- year-old Richard Turere from Kenya. His speech embodies the TED slogan of "an idea worth sharing" in a powerful story told in under 7 minutes. Watching it again gave me the idea to add a teenager to my growing collection of rainbows. Richard shows us that age is not an issue. Anyone can be a rainbow speaker with a bit of coaching and a good story to share.
This my rainbow breakdown of the colors Richard uses to connect.
Red Emotions: Richard uses two aspects of red. He states at the opening of the speech he "felt so bad" when lions killed his family's bull and that he "grew up hating lions so much." This strong negative emotion sets the tone for the speech but later he also reveals his passion for electronics and taking things apart in his room. A positive passion that got him in trouble with his mother and he connects with audiences here too. Passion and hate are two powerful red emotions. Notice that Richared starts his speech with hate, the negative one. As Carmen Simon says in Impossible to Ignore:
A negative emotion may be a good place to start, but it is not a good place to end.
Orange Energy: This is perhaps Richard's weakest color. However, he does have a gentle power in his voice which underlines his message of peace and he holds the stage with energy in spite of his age.
Yellow Joy: Richard's beaming smile lights up several of his slides and his speech. He even gets laughs while telling his story. He clearly has a joyful personality and shares his delight to be on stage telling his story.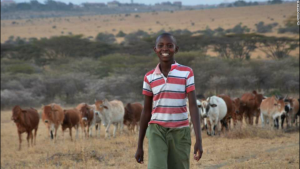 Green Hope: This is the most powerful color in his rainbow. Richard expresses optimism and hope and, even after failure, he says "I didn't give up. I continued." His desire to find a solution to the lion problem demonstrates his "Yes we can attitude." Notice the simple "Yes!"  given as an answer to the grandmother who asked to use his system. As he explains, he "is teaching" others and helping spread fundraising and awareness to other homes and communities in Kenya. This fills our minds with a powerful sense of hope for a better future for Kenyan people. And Richard adds more green at the end of his speech by sharing his own "big dream" of flying in an airplane and becoming an aircraft engineer and pilot.
Blue Vision: Richard's accent, age, and background are not the only things that make his story unique. His visionary idea of how to deal with lions in the savanna is the perfect example of Blue creativity. His very personal experience of walking around with a torch at night led him to his unique discovery worth sharing. This is a story told mostly with "I" and Richard shares what his eyes saw and learnt.
Indigo Depth:  Although Richard's story is told in a simple language, there is Indigo present. He hooks us with the threat of lions and then uses two powerful drivers to anchor his story: desire for home and desire for control. His story resonates deeply with our desire to protect our home and our desire to control the natural world. His simple solution gives him the tools to do both. Bravo Richard! All the technical aspects of his story, including this slide of his schematic drawing are also Indigo.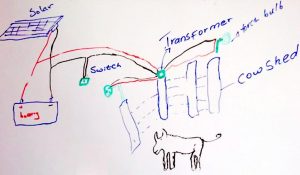 Purple Soul: Richard's youth gives him vulnerability on stage in front of such a crowd and the audience is instantly drawn to him. He also uses pauses at the right moments to let the audience come to him and connect. And lastly he slides a powerful phrase "We, the Masai, believe we came from heaven with all the animals and all the land" into his speech. This connects with western biblical myths (Adam also came from heaven with all the animals and land) and reminds us that universal spiritual messages are also purple.
I love how Richard shares his emotions, joy, energy, hope, vision, and connects us to the deep human desire to protect our home and control our environment. And Richard completes his rainbow with the spiritual message of peace on earth with the gentle reminder that we all come from heaven and must find simple and peaceful solutions to share our planet with all.