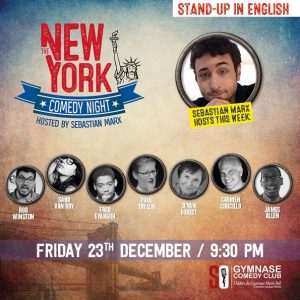 Tis the season of sharing and receiving presents. Surprises are welcome, when given with love and attention. One of the surprises of this blog is that the rainbow constantly surprises me with "presents". By "presents" I mean moments that arrive unexpectedly and contain a gift of insight or connection. Like last week when I saw the flyer for the New York Comedy Night in Paris and recognized that two of the comedians I'd mentioned in my post 10 Things An Audience Wants would be on stage at the same show. Synchronicity! Obviously, I had to be present. It was as if my rainbow blog was bringing Rob Winston and Dyan Forest to me. As it turned out, while looking for my seat, I almost sat down on Dyan!
We chatted before the show started about my blog article and her long career as an entertainer. We also made plans meet to for an interview so I can share some of her insights on connecting with audiences in a future post. When it came time to perform, Dyan closed the show with laughs and color. (She has all the colors of the rainbow).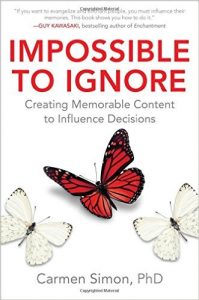 Another surprise was the discovery of the above book:  Impossible to Ignore by Carmen Simon. Just the subtitle "Creating Memorable Content to Influence Decisions" will tell you that Carmen's research and work on public speaking are very much in line with my own ideas. Although her work is more about how to influence decisions than create colorful connections, we both have the same goal of making you impossible to ignore. I am excited by the synchronicity which brought her book into my mailbox just in time to read over the Christmas holidays. It must be my Christmas "present" from the rainbow. I will definitely be referring to her work in future posts as I continue to expand my speak-the-rainbow blog in 2017.
My blog has presented me with so many rich moments in so few weeks that I am certain 2017 will be an extremely colorful year. One of my goals is to take my workshop and ideas further and connect around the world. I have applied to present my workshop at the Toastmasters International Convention in Vancouver, Canada in August and am exploring other opportunities. Your suggestions are welcome!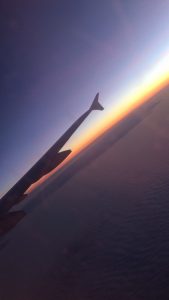 A few days ago, my daughter snapped this photo during a flight and added the caption: "A rainbow in the airplane". If my family is starting to see rainbows everywhere then I believe you will too as something magic happens when you begin connecting with emotion, energy, joy, hope, vision, depth, and soul. Make it your goal to speak the rainbow and the rainbow will bring you incredible "presents." Wishing you colorful connections with your audiences and a rainbow of abundance in 2017!