This weekend, I will be in Madrid for the Mad, Fun, and Sun Toastmasters District 59 Fall Conference.
How could I not go? When I look at the bulletin board near my desk, I see this image which I made for myself in 2012 to develop more yellow in my personality.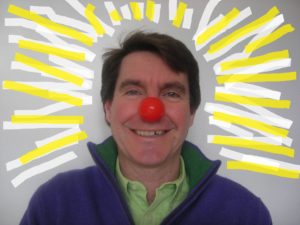 Synchroncity, no? The Madrid conference promises to be perfect for me as I am a bit mad (the crazy type), fun, and love the sun. My image reminds me daily to look at myself as a sunny clown in order to balance my natural purple (notice the color of my sweater) personality. And it has inspired me to do workshops with international clowns like Ira Seidenstein and Casper Schjelbred. I suggest you make an image of yourself expressing the color you would like to develop in your personality to balance your rainbow and hang it near your desk. It has worked for me. The last time I went to a District 59 contest was in 2014 in Lyon where I was one of the eight finalists in the Table Topics Contest. The conference was called Happy in Lyon! (another yellow theme) and competing there has helped me become not only a better speaker but also develop my ideas on rainbow speaking.
This weekend I will be watching to see which of the talented speakers on stage use the rainbow to connect with audiences and which do not. And I hope to meet lots of other talented and devoted Toastmasters from all over Europe. Going to Madrid will be extra special because it was in that city that I gave the most pleasantly stressful speech of my life for family and friends at my Father's 80th birthday party in February. You never know where or when you will need to use the colors of the rainbow. And that night, when I raised my glass in Madrid to toast my father, I was full of yellow joy.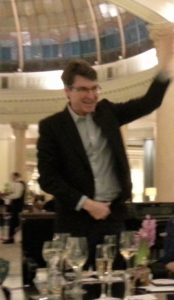 PS : To celebrate Madrid together I offer to make a rainbow review for the first 10 people who subscribe to my blog.